HOME / Hardware / FBI-Gauge System overview


The FBI-Gauge sensing system is designed to measure strain and temperature via optic fiber attached to the surface of the test piece.
Continuous measurement along the optic fiber supports both point and continuous line and surface observation.
FBI-Gauge does not require large numbers of strain gauges, and is easy to set up and inexpensive.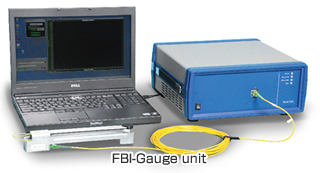 ODiSI hardware
The ODiSI, developed by Luna Technologies in the United States, is an optical distributed sensor interrogator for strain and temperature measurement which uses Optical Frequency Domain Reflectometry (OFDR)* to detect microscopic-level Rayleigh scattering within optic fiber for monitoring displacement at millimeter-level precision.
NB: Optical Frequency Domain Reflectometry
●

Sensor length
:1~50m

●

Smallest increments
:1mm

●

Measurement cycle
:ATYPE~5Hz
 BTYPE 100Hz

●

Minimum resolution
:±2.0μStrain ±0.2℃

●

Measurement range
:±10,000μStrain
 −50~300℃(Polyimide coated fiber)
 −200~800℃(Gold coated fiber)
3-D analysis
The advanced and powerful 3-D analysis system processes sensor data and generates shape and measurement results for display in intuitive format.

3-D analysis (typically displayed as 3-D color contours)
3-D shape mapping
3-D dimensional measurement
2-D graphing
3-D graphing
FFT
Other analysis and evaluation tools

Application examples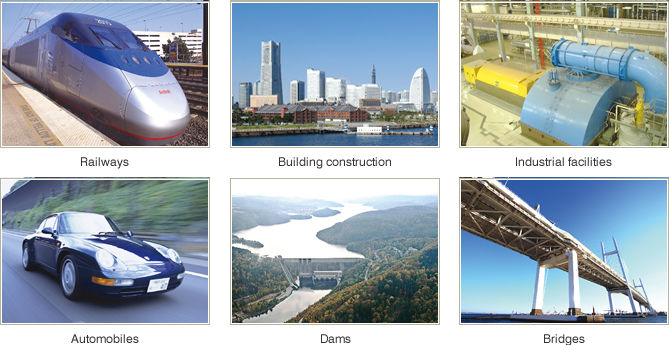 Specifications
General performance
Model
A50
B10
Maximum measurement length (*1)
50[m]
10[m]
Data sampling ratio
2.5[Hz]
100[Hz]
Minimum sensor spacing
0.4[mm]
5 [mm]
Minimum gauge length
1[mm]
5[mm]
Stress measurement:
Measurement range
±10,000[uStrain]
±10,000[uStrain]
Repeat accuracy
±2[uStrain]
±5[uStrain]
Temperature measurement (*2)
Measurement range
-50~300[℃](Polyimide coated fiber)
-200~800[℃](Gold coated fiber)
Repeat accuracy
±0.2[℃]
±0.4[℃]
Main unit
Exterior dimensions and weight
36[cm]×32 [cm]×17[cm] / 8[kg]
Power consumption
50[W]
System overview / Features / Post software / Distributed strain measurement / Use of FBI-Gauge in the automotive industry
Use of FBI-Gauge in industrial facilities and in the construction industry / Product seminars