Fuji Technical Research offers an extensive range of prototype delivery methods through tie-ups with selected auto parts suppliers who bring a wealth of experience and expertise in prototype production. Prototype options include rapid aluminum casting for faster turnaround, lamination for precision prototypes, sheet metal (ZAS mold) and carbon function parts, and standard machining.
Rapid prototyping, for example, is based on RP sandbox casting, while precision prototypes can be made from aluminum in precision sandbox molds or from resin via vacuum injected nylon casting or heat-proof urethane casting.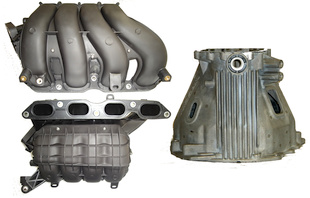 Typical prototype orders
• Engine and transmission parts
Engine cylinder block, cylinder head, head cover, crank case, manifold, transmission housing and exhaust housing

Prototype pieces are generally used in the development process in one of two ways:
• For checking the shape, dimensions and fit of the final article only, without performance testing
• For performance testing-in this case, the build precision must be equivalent to the final article and the prototype must be capable of withstanding the testing process
Fuji Technical Research provides a range of prototype articles for endurance testing and performance evaluation, including high-precision aluminum castings as well as resin prototypes made by vacuum injected nylon and heat-proof urethane casting.
For nylon casting, the choice of nylon material will depend on the purpose of the prototype, based on material testing and CAE analysis results. We can also supply CAE-based performance estimates of prototype articles upon request.
Typical precision prototype orders
• Aluminum
Peripheral engine parts such as head cover, cylinder head, crank case and intake manifold
• Resin
Soft resin parts such as Intake manifold, air cleaner and air duct



The turnaround time for a rapid prototyping sandbox casting is as little as two weeks. This is less than half the 40 to 50 days required for a conventional prototype, which involves a number of processes such as making wooden molds, testing, pouring and machining. The faster turnaround time significantly speeds up the development cycle of design, prototype production, performance and productivity checks, and design review.
For example, a cylinder head prototype can be completed in around two weeks, including casting, machining, quenching and inspection:
• Rapid prototyping = 4.5 days
• Mold data = 1.0 day
• Mold sintering and lamination = 1.0 day
• Post-processing = 0.5 day
• Cooling = 1.0 day
• Teeming = 0.5 day
• Separation = 0.5 day
This allows for a greater number of development cycles within the development lead time, which translates into improved performance. It also generates significant cost savings per production cycle.
At Fuji Technical Research, RP sandbox casting without wooden molds is commonly used for aluminum prototypes of automobile engine peripherals. A rapid plotter automatically generates sintered and laminated sandbox molds. This eliminates the conventional sandbox altogether for substantially shorter lead times. Rapid prototyping generates a faithful reproduction of the 3-D data to enable comprehensive prototype analysis with respect to parameters such as product strength, shape and thickness.
Typical rapid prototyping orders
Head cover, cylinder heat (to assembly level), crank case, intake manifold, peripheral components